Local SEO Done the Right Way
We help brands and local businesses reach their target audience through digital marketing, including SEO, paid advertising, content marketing, and social media management.
MBDEV Boston is a full-service Boston web & Local SEO agency meaning we work IN-HOUSE on our client projects for local SEO, local marketing, and search engine optimization. With our team's help, you can build a brand identity that's unique to your business, from logo design to website creation, social profiles and more.
Stop paying thousands a year to some "big wig" local marketing company to keep you listed on Google Maps when we can do it for a low one time charge and sometimes absolutely free!
It's True, SEO Can Be Tricky
Don't get lost in the shuffle or worse not even be in the shuffle...
It's not easy to optimize a website without getting lost in the shuffle or getting in over your head. Many SEO companies make mistakes and over-optimize for the wrong keywords. Many businesses don't get the results they expect. Each business is unique and therefore we cannot apply a standard approach to every one. This is something we've learned over the years and it benefits each client with it's own custom approach. And this is why at MBDEV Boston we take the time to get to know your business, your employees, and your customers. We strive to cover all the bases in the SEO game whether it be organic or paid SEO.
You won't find the right solutions for your business no matter how much you Google, "SEO Guru near me". Digital marketing and Local SEO are hard work and require skill. Many businesses that have websites built using shady SEO techniques can be affected by every algorithm update, interface modification, or other major change. It is crucial to hire the right SEO agency. 
Your business deserves the attention you have worked so hard for so far. MBDEV Boston has helped thousands of clients gain new loyal customers by helping businesses just like yours to get noticed. We offer a custom Search Engine Optimization service that includes all aspects of Local & National SEO to ensure your top ranking.
A Beautiful Website Means Nothing If They Can't Find You
SEO strategies and workflows can be time consuming and not every project has the same results. But understand MBDEV will do everything in it's power to help you list properly
Appear on the First Page of Your Customers Google Search
Increase Your Business With Local SEO
Local SEO is an essential component of any business seeking success. Because it makes local targeting easier, SEO is essential for every business seeking success.
Local SEO is, in short, more concerned with providing relevant results that are relevant to the user based on their current location.
Local SEO explained
Local SEO can be a powerful way to market a business. Local SEO allows businesses to market their products and services to local customers, regardless of their location. Local SEO is different from other SEO techniques in that it connects your business with local customers when they need your services or are looking for a product. Local SEO employs multiple strategies to help your business rank higher in search engines like Google and Bing. This allows more people to find your business when they search for the services or products you offer.
Why team up with MBDEV Boston?
Local SEO is a great way to promote your business online. MBDEV Boston takes a holistic approach when it comes to local SEO. We focus on conversions and ensure that your business ranks higher in Google for specific searches. To increase foot traffic to your business, we can help you target your service area.
Local SEO can help you dominate the SERPS
Our local SEO services are available to small and medium-sized businesses as well as enterprises that want to be competitive in the local market. Our team is made up of experienced professionals who are familiar with the unique nature and relationship of search engines to local SEO. We offer local SEO services that combine social media, search engine optimization and other strategies. This allows us to help local businesses dominate the SERPs.
Local Mapping Optimization
Google Maps is a must-have tool for your business. Local SEO experts can help improve your Google Maps listing by compiling your profiles, claiming missing listings and inspiring reviews. They also standardize all NAP data to ensure that your business is easily found.
Industry Leading Citation Techniques
We manage your business listing citations. This is an important component of Google's local ranking algorithm. Local SEO experts help to standardize and build citations from established portals like Yelp, Yellow Pages, etc. We do this to ensure your business is easily found by searchers who perform relevant keyword searches.
Targeted Outreach
Our SEO specialists are able to use multiple tools and local SEO techniques to locate relevant websites within your industry to build links.
Local Schema Markup
It is possible to dramatically improve the ranking of your website in search engine results pages by correctly using schema markups. This is something that many online marketers don't realize. Search engines use data markups to gain a better understanding of your business and your business's purpose. We offer top-quality SEO services and local schema markups that will make a difference for your business.
It was hard to understand the Google mind back in the day to determine the best way to rank higher on Google's search engine's pages. Our dedicated local SEO specialists and years of experience allow us to navigate the maze of SEO techniques and tricks using local SEO strategies that are tailored to your business.
The Best Local Business People to Hire!
MBDEV Boston offers comprehensive SEO and social media services to all clients. We are different from other SEO agencies in the region that offer local SEO services using automated techniques and questionable search engine optimization practices. Our local SEO company can provide local SEO services for businesses that you can trust and help your business grow organically and sometimes more importantly, at an affordable rate.
LET'S GET YOU OUT THERE. fAR AND WIDE.
Small Business SEO & Maps
SEO is essential for small business owners as it allows them to expand their businesses at a very affordable cost.
The campaign must be well-optimized and tuned to achieve optimal results, as small business owners often have limited budgets.
This often means using strategies to help your business rank locally and outperform your competition on Google My Business Listings and later on Google national search.
We have helped numerous small businesses to reach page one on Google in just a few months over the years.
The approach to small local businesses is different than that of a small national company.
We specialize in helping local businesses rank in the Greater Boston & Providence areas.


The steps of small business SEO can include:
Keyword research

Optimized Google Map Listings

Your listing ranking

On-page optimization of you website

Link building off-page

Unique AI Content creation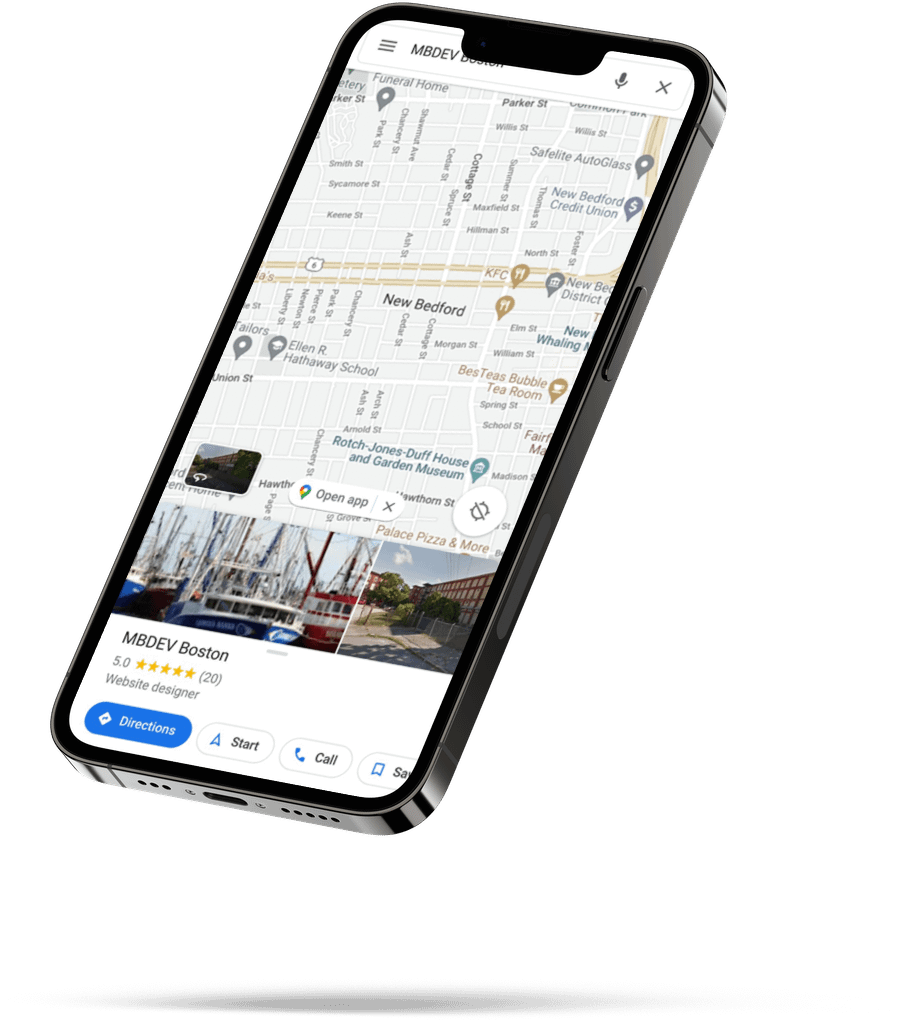 Have More Questions on Local SEO & Business SEO?